Top Headlines For Dec 2010
> Request a Feature - Get 20% - 60% Off
> Latest Stylus Studio Videos
> Stylus Studio AUP FAQ

---
Get 20% - 60% Off
We encourage you to submit feature requests for Stylus Studio 2012. Any customer who submits a valid features request will receive a coupon code for 20% - 60 % Off Stylus Studio licenses on the Stylus Studio store.
This offer is available only for a limited time and can not be combined with any other offer.

Contact Us Now About This Offer
---
Latest Stylus Studio Videos
Check out these brand new instructional videos from Stylus Studio and learn some great XML tips.
XML Editor Core Functions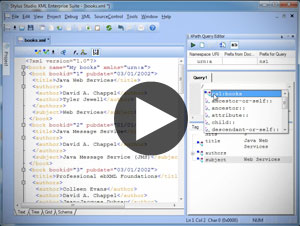 Watch Video
Uploading Relational Data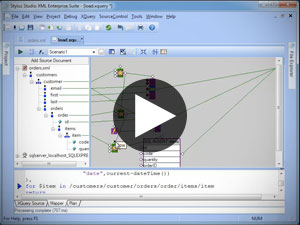 Watch Video
---
Stylus Studio AUP FAQ
Q: How do I get Stylus Studio?
A: You can buy Stylus Studio® 2010 XML from our own online store or any software reseller.
Q: What is Annual Upgrade Protection?
A: Annual Upgrade Protection (AUP) is optional coverage that ensures that you receive every Software Maintenance update and any Software Upgrades we release during your AUP coverage period. With the AUP, these Stylus Studio updates and upgrades are free. You do not have to pay an additional upgrade license fee to stay current with CRN Magazine's Product of the Year.
Q: Are you ready to get your Stylus Studio AUP?
A: Don't worry, it's easy. You can get your AUP along with your Stylus Studio software online. If you already have your Stylus Studio software, you can get your AUP by sending email to stylus@stylusstudio.com or contact our sales staff.
Q: How can I upgrade my older Stylus Studio® license?
A: The easiest way to upgrade from one product release to another (e.g., Stylus Studio® 2006, release 1 to Stylus Studio® 2006, release 2 or Stylus Studio® 2007, release 1) is to get Annual Upgrade Protection (AUP) for your current Stylus Studio® license. AUP is available for Stylus Studio® XML Enterprise Edition and Stylus Studio® XML Professional Edition. AUP is not available for Stylus Studio® XML Home Edition. Separate upgrade licenses are also available to migrate from one product release to another, if AUP is not in force. To get Annual Upgrade Protection, please email us at stylusstudio@stylusstudio.com.
Q: What happens if I don't upgrade to the new version while covered under AUP?
A: You must upgrade to your new licenses during the AUP subscription period. Unfortunately, we cannot honor requests to upgrade licenses to a newer version of Stylus Studio after the expiration of your AUP. We will try to resolve any issues, but cannot guarantee we will be able to help you. It is important that you use your AUP during your subscription period to gain full benefit.

---
For more information about enterprise licensing and questions about purchasing Stylus Studio, please, contact us at:
> stylusstudio@stylusstudio.com