Top Headlines For October 2010
> Upgrade Now - 50% Off
> New Stylus Studio Videos
> Tech Tip For the Month
> Stylus Studio AUP FAQ

---
50% Off Upgrade!
Existing Stylus Studio Customers who have Stylus Studio 2008 or older can upgrade to any version of Stylus Studio 2010 for 50% off on the Stylus Studio Store!
Just send us an email with your current license key for Stylus Studio and how many licenses you would like and we will give you a code for 50% off any number of licenses of Stylus Studio 2010 when purchasing on the Stylus Studio Store.
All customers who take advantage of this offer will also receive an upgrade to Stylus Studio 2011 once it is released.
Contact Us Now About This Offer
---
New Stylus Studio Videos
Check out these brand new instructional videos from Stylus Studio and learn some great XML tips.
XML Editor Core Functions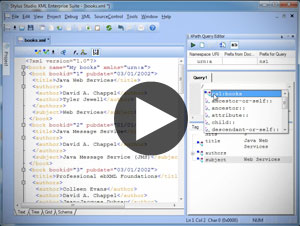 Watch Video
Uploading Relational Data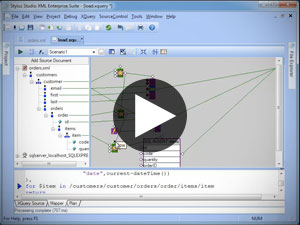 Watch Video
---
Tech Tip For The Month
Q:

I'm using a pipeline output element in a pipeline, then I generate the Java™ code, but I would like to use that output object, the question is, how do I use it?
A:
Simple pipelines are emitted as self contrained Java source, the Output blocks support binding to OutputStream. If you unckeck "Generate inline code" the Java code generated requires the legacy pipeline library that allows to bind URL to the output edges
C:/Program Files/DataDirect Integration Suite 2010/Stylus Studio Enterprise Suite/bin/Plugins/XMLPipeline.jar
---
Stylus Studio AUP FAQ
Q: How do I get Stylus Studio?
A: You can buy Stylus Studio® 2010 XML from our own online store or any software reseller.
Q: What is Annual Upgrade Protection?
A: Annual Upgrade Protection (AUP) is optional coverage that ensures that you receive every Software Maintenance update and any Software Upgrades we release during your AUP coverage period. With the AUP, these Stylus Studio updates and upgrades are free. You do not have to pay an additional upgrade license fee to stay current with CRN Magazine's Product of the Year.
Q: Are you ready to get your Stylus Studio AUP?
A: Don't worry, it's easy. You can get your AUP along with your Stylus Studio software online. If you already have your Stylus Studio software, you can get your AUP by sending email to stylus@stylusstudio.com or contact our sales staff.
Q: How can I upgrade my older Stylus Studio® license?
A: The easiest way to upgrade from one product release to another (e.g., Stylus Studio® 2006, release 1 to Stylus Studio® 2006, release 2 or Stylus Studio® 2007, release 1) is to get Annual Upgrade Protection (AUP) for your current Stylus Studio® license. AUP is available for Stylus Studio® XML Enterprise Edition and Stylus Studio® XML Professional Edition. AUP is not available for Stylus Studio® XML Home Edition. Separate upgrade licenses are also available to migrate from one product release to another, if AUP is not in force. To get Annual Upgrade Protection, please email us at stylusstudio@stylusstudio.com.
Q: What happens if I don't upgrade to the new version while covered under AUP?
A: You must upgrade to your new licenses during the AUP subscription period. Unfortunately, we cannot honor requests to upgrade licenses to a newer version of Stylus Studio after the expiration of your AUP. We will try to resolve any issues, but cannot guarantee we will be able to help you. It is important that you use your AUP during your subscription period to gain full benefit.

---
For more information about enterprise licensing and questions about purchasing Stylus Studio, please, contact us at:
> stylus@stylusstudio.com